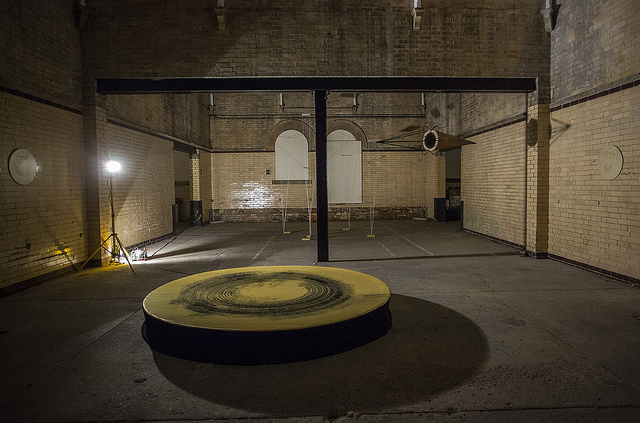 'In Transit'

Last autumn I was invited to co-curate and exhibit in a group show at The Old Parcels Office in Scarborough with Caroline Underwood. 'In Transit' is the outcome.
After much excitement we opened our doors last Friday night and for the Coastival Festival weekend, to launch the exhibition and this spectacular building as a vibrant new art space. We even had a visit from BBC Radio York who were frantically trying to beat the clock to get to the treasure for their weekly treasure hunt. We were the treasure! If you'd like to listen to the show click here. (20mins 30 seconds in if you want to skip to us).
In Transit' is a group exhibition of established and emerging artists working in a variety of media, from sculpture and painting to projection and installation. We seek to bring together a variety of styles and approaches to represent the diversity of contemporary art, with artists invited to work as directly or loosely as they wish, in response to the theme and the Old Parcels Office setting. Taking the notions of space and place as its starting point, the exhibition showcases current themes and methodologies in contemporary art and present juxtapositions of static and dynamic installations that aim to challenge and celebrate the bold architecture and space that the unusual Old Parcels Office site provides.
In this show I exhibited 'Black Matter' for the first time in the UK. To see more images and a video of the piece please click here.
Alexandra Carr, Caroline Lambard, Caroline Underwood, Jennifer Hooper, Owen Bullett, Rosaleigh Harvey-Otway, Rosie Munro Kerr, and Rosie Reed-Gold were the exhibiting artists, each producing a unique limited edition print to accompany the show. You can see the prints here. For sales please contact the individual artists.
Exhibition runs: 17th February - 17th March 2017
Opening 'Coastival' weekend with live music: 18th-19th February 2017